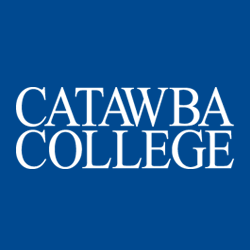 Catawba College Theatre Department, Shuford School of Performing Arts
Start an Application
Narrow your Search
Transform. Inspire. Belong


Welcome to the online recorded audition portal for Catawba College's
THEATRE ARTS DEPARTMENT: Shuford School of Performing Arts (SSPA)!

Throughout your performing arts experience at Catawba College, you will focus on perfecting your craft. Our programs are quite different from a traditional conservatory, though we offer BFA, BA, and BS degrees. Our approach for all degrees is highly practical and aligns directly with industry standards. We aim to create well-rounded, industry-ready professionals who have refined their talents through self-expression, collaboration, creative problem-solving, communication and leadership, accompanied by a broad understanding of the business of theatre that will enable a promising future in the arts! To learn more about our program offerings, please visit our website.
 
Ready to Apply?
Please complete the following steps:
1. To be considered for enrollment in the Theatre Arts program, please apply below and submit your free prescreen audition. 

2. Once your application and prescreened materials have been submitted through Acceptd, click here to submit an application to be admitted to Catawba College. **You must be admitted before any scholarships or financial aid can be awarded from Catawba College. 

3. After you have applied through Catawba College Admissions, please complete the Fafsa application to get more information about your federal student aid. 

4. Last, but not least, please come visit us on campus. Feel free to come to one of the SSPA events listed below or you can schedule a personal visit on campus here or email Sacha Witt at anwitt16@catawba.edu.

---
Shuford School of Performing Arts Event Information 
Please note that the SSPA events are an opportunity for our theatre faculty to get to know you personally! In addition, this event allows for a more memorable and collaborative outcome through exposure to faculty and other students in-person. 

All students who submit an audition or portfolio through Accept'd by March 1 are eligible for Theatre Arts scholarship*. However, we do offer a full-tuition scholarship through our Hobgood Scholarship Competition. This special scholarship looks at the whole theatre artist/ scholar and is invitation-only. 

To be considered part of Hobgood please apply by our priority deadline, December 1, 2023. Hobgood candidates are invited to campus January 26-27 to have dinner, see a show, and interview with the faculty.

*If we have seen you at a festival during this academic year and you have received a callback, this can take the place of your audition, but we still ask that you submit an application through Accept'd so that all of our faculty has a chance to get to know you! Please ask if you need assistance. 
---
SSPA Events
The Catawba College Theatre Arts Department would like to announce our exciting season for the 2023-2024 year:

Fall:
Spring Awakening (musical):
Sept. 22, 23 (7:30pm), 24 (2:30pm), 29 (7:30), 30 (2:30) 

Student-directed Blue Masque production, Natural Shocks
Oct. 20, 21 (7:30, 2:30pm), Oct. 22 (7:30, 2:30pm)
At Lee Street: Nov. 3, 4 (7:30pm) 

Dr. Jekyll and Mr. Hyde (musical, produced in collaboration with Lee Street Theatre)
At Lee Street with Community members and Catawba: 
Oct. 13-14, 20-21, 27-28 (7:30pm), Oct. 22 (2:30)
At Catawba College, Hedrick Little Theatre:
Nov. 10, 11 (7:30), 12 (2:30); Nov. 17, 18 (7:30)

Spring:
Staged Reading of an Original Play with Guest Artist Robert Smith:
Feb. 9, 10 (7:30pm) 11 (2:30pm); Feb. 16, 17 (7:30pm)

Student-Directed Blue Masque Production, Alabaster
March 22, 23, 24 (7:30pm)

Avenue Q (musical)
April 5, 6 (7:30pm), 7 (2:30pm); April 12, 13 (7:30pm)

In addition, there will be many performance opportunities such as one acts, vocal performances, and readings. Please contact us and we will be happy to arrange free tickets for your visit. We hope to see you on campus!




Contact:If you have questions or need assistance with the application process, please contact Catawba College Admissions
by email: admission@catawba.edu or by phone: 800-228-2922
For questions regarding the theatre department, contact Theatre Arts Chair, Erin B. Dougherty, edougher@catawba.edu
For technical questions, please visit the Acceptd Help Desk.