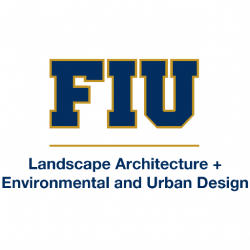 Landscape Architecture + Environmental and Urban Design at Florida International University's College of Architecture + The Arts
Start an Application
Narrow your Search
Dear Freshman, Transfer or Graduate Level Landscape Architecture Applicant

Thank you for visiting the Department of Landscape Architecture + Environmental and Urban Design (LAEUD) at Florida International University's College of Architecture + The Arts on Acceptd.

In our department, what you learn inside and outside the classroom empowers you to think, create and act differently. Our talented students become extraordinary landscape architects and designers, teachers and scholars by developing their minds, their talents and their vision. As an incoming landscape architecture student, you'll find the atmosphere abounds with creativity, innovation and inspiration.

Our emphasis is on making the most of who you are and what you want to become. Your individual exploration and educational needs are our primary concern. Located in Miami, a global center for design and culture, our program takes full advantage of our amazing setting.

All freshman, transfer and graduate applicants are required to submit a portfolio of creative work. While you are asked to submit your required design portfolio file digitally via Acceptd, please note that all applicants to our program must also complete FIU's online admissions application.

The link to the undergraduate application is available here, and the link to the graduate application is available here. Applicants who submit their portfolio file to Acceptd but who do not complete FIU's online university application process cannot be reviewed for admission by the department.

Before you begin the online portfolio submission process through the Acceptd portal and the FIU online application process, please make sure you carefully read the Department of Landscape Architecture + Environmental and Urban Design's portfolio submission requirements and application instructions, which can be found on our departmental admissions page. The portfolio requirements differ for Freshman, Transfer and Graduate applicants. The departmental admissions page will give you all the information necessary for your specific program and for both the application process and the portfolio submission process.

While not required, we would like to invite you to tour our program and our excellent facilities and observe classes. Please call the Department of Landscape Architecture + Environmental and Urban Design's Admissions/Advising Office at 305.348.4884 to schedule an appointment. Should you require additional information or have any specific questions about the admissions process, please call or write us at any time.

Again, we thank you for your interest and we look forward to meeting you in the near future.

Sincerely,
Roberto Rovira, Chair
Department Of Landscape Architecture + Environmental and Urban Design
College of Architecture + The Arts
Florida International University
To view our program video with Spanish subtitles, click here.

---

For technical questions, please visit the Acceptd Help Desk.
For applicants unable to afford the $30 fee to submit their materials through Acceptd, please contact the Acceptd Support Team and provide documentation of need and Acceptd will waive the $30 fee.