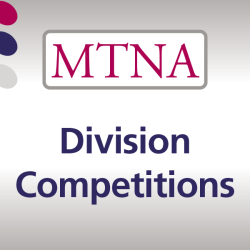 MTNA Division Competitions
Start an Application
Narrow your Search
Congratulations on being a State Winner or State Representative
in the MTNA Division Competitions!
Please carefully follow the instructions below to submit your program. Entrants will be notified of the results no later than the week of January 15, 2024.
The Division Competitions will be a video round.
State Winners and Representatives will submit a video performance of the repertoire listed on the original application no later than Wednesday, December 6, 2023, at 3:00 p.m. Eastern time. Winners and Representatives will receive a unique code that must be entered in the Division Video Application. If a winner does not submit videos by the deadline, the alternate will be contacted and given until 3:00 p.m. Eastern time on December 15 to submit his or her videos.
Division Winners and Representatives will be required to travel to perform at the MTNA National Conference in Atlanta, Georgia, March 16–20, 2024

Video Instructions:

Click here
to access the Division Competition Video Guidelines. 
Please direct all questions to MTNA at 
competitions@mtna.org
.
For technical questions, please visit the Acceptd Help Desk.