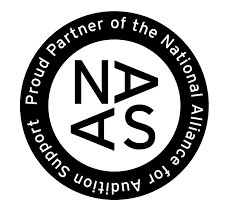 NAAS Voluntary Self-Identification Form
Orchestra To Receive Your Voluntary Self Identification Form:
Narrow your Search
Orchestras attain unparalleled heights of artistry and celebrate broad-based audience and community engagement when we understand, embrace, and act upon principles of equity, diversity, and inclusion. We are asking for your help in understanding the landscape of our field by providing the information requested on this form. This anonymous, aggregated data will be shared with the following organizations as we continue to examine our behaviors and better understand the barriers to diversity and inclusion in the audition process:


National Alliance for Audition Support- http://www.auditionalliance.org
American Federation of Musicians- https://www.afm.org/
League of American Orchestras- https://americanorchestras.org/
International Conference of Symphony and Opera Musicians- https://www.icsom.org/
Regional Orchestra Players' Association- http://ropaweb.org/
The Sphinx Organization- http://www.sphinxmusic.org/


These organizations are all Equal Opportunity Employers (EEOC) and consider job applicants for all positions without regard to race/ethnicity or gender. Completion of this form is voluntary, will have no effect on your consideration for open positions and is only used for reporting purposes. Thank you for your participation in helping us track our efforts to reach all musicians.

To begin this form, please select the program from the dropdown on the left side of this page and submit the requested information.

For technical questions involving the Acceptd platform, please visit the Acceptd Help Desk.