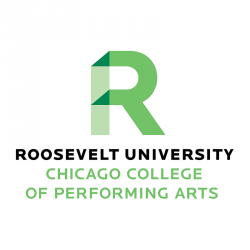 Roosevelt University: Music Conservatory at the Chicago College of Performing Arts (CCPA)
Start an Artistic Application or Free Interest Form
Narrow your Search

Application Deadlines
Fall 2024: Our application for the 2024-2025 school year is OPEN! Application Deadline: January 15, 2024 at 11:59pm Central Time
Summer 2024: February 1, 2024 (MA in Performing Arts Administration is a summer start only)


Thank you for your interest in the Music Conservatory of the Chicago College of Performing Arts (CCPA) at Roosevelt University! Located in the heart of downtown Chicago, CCPA is just steps away from the Chicago Symphony, Lyric Opera of Chicago, and many more of the nation's leading performing arts organizations.

Please note that all applicants to CCPA must first complete an application for admission, available here. Once that is submitted, all applicants must then complete a GetAcceptd Artistic Application, where audition preview** (undergraduate applicants) videos or pre-screens (graduate applicants), and resume will be submitted, and audition/interview will be scheduled.

**The audition preview is a presentation of two contrasting pieces.  It will not serve as a pre-screening but as a means of learning more about you prior to your audition.

Should you have any questions about our admission process, please contact the CCPA Office of Enrollment via email at ccpaadmissions@roosevelt.edu. You can also reach out to a CCPA Admissions Counselor, Jessica Meaux, at jmeaux@roosevelt.edu. For technical questions, please visit the Acceptd Help Desk.

Good luck in the admission process, and we look forward to seeing you soon!