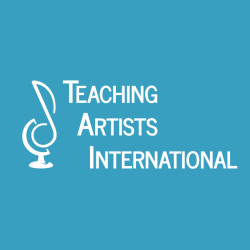 Teaching Artists International
Start an Application
Narrow your Search
Teaching Artists International (TAI) is a 501(c)(3) nonprofit organization with a mission to develop global citizen musicians through artistic cultural exchanges that empower youth and support music education around the world. We achieve that mission by partnering with socially-driven music institutions around the world to provide teaching artists residency opportunities to travel, perform, teach, and support our global music partners. Teaching Artists International curates the experience by bringing along world-class faculty to facilitate our workshops on a variety of topics ranging from culturally-responsive pedagogy, music education, and teaching artistry. As a TAI Fellow, you will be immersed in a new culture, given hands-on teaching experience and feedback, gain international performance experience with other musicians, and hone your skills as a teaching artist.

Interested in becoming a TAI Fellow? Apply now! 

Guatemala Program Details: 
This year, we are launching our Youth Leadership Fellowship in Guatemala in partnership with Orchestra Lumos & Project Music. We are accepting youth musician applications on violin, viola, cello, and double bass. Student musicians must be at least 12 years old at time of travel and have been playing their instrument for a minimum of 1 academic year in their school, after-school program, youth orchestra, or taking private lessons.
July 9-18, 2023
Download audition pieces here.
Deadline to Apply: June 5th, 2023. Priority will be given to applications submitted by May 26th, 2023.
**Scholarships and financial aid available for all fellowships.
Learn more about each opportunity on our website.

Contact us at
info@taimusic.org
with any questions, scholarship, and/or financial aid inquires. Se habla español!  

For technical questions, please visit the Acceptd Help Desk.