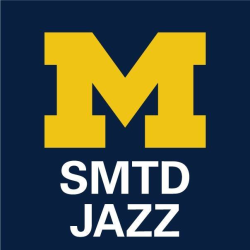 U-M Jazz Ambassadors Summer Intensive
Start an Application
Narrow your Search
U-M Jazz Ambassadors Summer Intensive

The U-M Jazz Ambassadors is a highly selective jazz combo program that allows a septet of Michigan's finest high school jazz players to work intensively with University of Michigan jazz faculty and a special guest artist/clinician. 
The Ambassadors is open to current 10-11 grade students.
The application process must be initiated by a music teacher or band director's recommendation before a student may apply.
Only one student on each instrument (saxophone, trumpet, trombone, guitar, piano, bass and drums) will be admitted. Other instruments may be considered on a case-by-case basis, but space is limited to 7 students total.
2023 Jazz Ambassador Summer Intensive Dates:
June 25 - June 30, 2023
U-M Faculty Director
- Professor Ellen Rowe
Program Focus
Improvisation
Jazz Theory and Aural Skills
Jazz Keyboard Skills
Small Group Performance
Rhythm Section Skills
Composition/Arranging
Applied Instrumental Training
Rhythmic Training
________________________________

Application Checklist
Band Director or Music Teacher Recommendation
Audition Video
Headshot
Bio outlining previous performance experience

Audition Video
Upload a video audition with the requested information below. You may upload more than one video, as needed.
Note: Audition requirements for your specific instrument are listed below.

Jazz Ambassadors Audition Requirements
All auditions must be performed with other musicians or a play-along track.
1. Medium tempo blues tune of applicant's choice, in any key. Head, 4 choruses of improvisation and head out.
Pianists/Guitarists – play the melody, comp two choruses, solo for 3
Bassists – play melody if possible, walk two choruses and solo for 3
Drummers – start with brushes for 2 choruses, switch to sticks for 2 and trade fours for 4 choruses. If performing with a play along, solo for four bars and play time for four for the four choruses.
2. Ballad - applicant should play entire melody and take one chorus of solo. No need for a repeat of the melody afterwards unless applicant so desires.
Pianists/Guitarists – play the first half of the melody of the tune and comp chords for the second half. Play one chorus of improvised solo
Bassists – play half the melody (arco if possible), play time for the second half, take one chorus of improvised solo
Drummers – play one half of one chorus of time with brushes and the second half with sticks
3. Tune of applicant's choosing in a different groove or tempo than the blues selection. Original compositions welcome!
Pianists/Guitarists – play the melody, comp one chorus, solo for two
Bassists – play melody if possible, walk or play bass groove for one chorus, solo for two
Drummers – play time for two choruses and either trade fours or eights, unless tune has odd length phrases in which case play an entire chorus of solo
4. 
Optional – pianists and guitarists may also submit a performance of a piece in solo Piano or solo guitar format
Headshot
Upload one color headshot
Headshots do not have to be professionally taken, but should be clear and recent.
Headshots should be front-facing, as they will be used for ID purposes.

Questions? Contact us at mpulse@umich.edu!