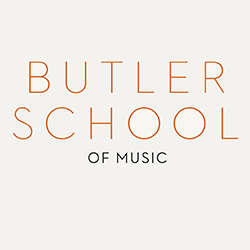 The University of Texas at Austin Butler School of Music, Undergraduate Programs
Start an Application
Narrow your Search
Thank you for your interest in the Sarah and Ernest Butler School of Music at The University of Texas at Austin! Applying to UT Austin as an undergraduate music major is a two-part process. In addition to completing an application to the university's Office of Admissions, all prospective music majors are required to submit a second application directly to the Butler School.
The Butler School of Music application will allow you to upload your introductory video, prescreen videos, letters of recommendation, portfolio, and résumé, as applicable to your program. You will also have the opportunity to select your preferred audition date.
The Butler School of Music application is not required for prospective students who solely wish to participate in ensembles, take non-music major lessons, or register for music coursework as electives. The Butler School application is only for students who wish to major in music.
Application Instructions
Visit
https://music.utexas.edu/application-requirements
for detailed requirements. A guide follows below.
1. Apply to The University of Texas at Austin through the Office of Admissions.
Fall 2024 applications open on August 1, 2023.
All items needed to complete an application must arrive in the Office of Admissions by the deadline.

Freshman: December 1

To meet the regular deadline students should submit the online application by December 1 and all additional required or optional application items by December 8.

External Transfer: March 1

Music applications are only accepted from transfer applicants who also submit the online application by December 1. Supporting materials may be submitted through March 1.
2. Apply to the Butler School of Music through Acceptd.

The deadline for all applicants is December 8.
You must have a UT EID to begin the Butler School application.

After you submit your university application, you'll receive an email from the Office of Admissions that includes your UT EID.
During peak periods, it may be 2-3 days before you receive your UT EID.

Be prepared to attach the following items to your Acceptd application:

Introductory Video
Prescreen Videos (if required)
Composition Portfolio (composition applicants only)
Résumé (optional)
Letters of Recommendation (optional)

Select your preferred audition date within the Acceptd application.
Questions?
Should you have any questions about applying to UT Austin and the Butler School of Music, please visit our website or contact the Butler School of Music Undergraduate Admissions Office at uga@mail.music.utexas.edu.

For technical questions, please visit the Acceptd Help Desk.

We look forward to reviewing your application!