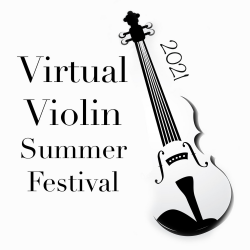 Virtual Violin Summer Festival
Start an Application
Narrow your Search
Welcome to the Acceptd audition and application portal for the Virtual Violin Summer Festival (V2SF)!  We are delighted you found your way here and look forward to reviewing your materials. 
For 4 weeks, advanced high-school and college-level violinists ages 15-23 get to engage with an online community of fellow violinists who are passionate about their instrument and learning from a mindset of mindfulness and curiosity.

Participants will have the opportunity to take part in lessons, classes, master classes, and other online events with master teachers and performers from the comfort and safety of their own home. 
We hope you are able to join us!
Program Details:
Dates: June 22-July 16, 2021
Online group classes will be held Tuesdays and Thursdays from 1:30-2:30 p.m. EDT on the Zoom platform  (10:30 a.m.-11:30 a.m. PDT, 5:30-6:30 p.m. GMT).  Additional activities will be held via Zoom and V2SF Private Facebook Group during each week. 

If you are unable to attend the full four weeks but would still like to participate, message us and we'll see if we can work something out! 
Includes:
Weekly 60 minute private lessons
Daily warm-ups and practice tips
Once weekly studio classes
The opportunity to play in a masterclass with Rachel Barton Pine and/or Brian Lewis
Weekly Musician's Toolkit sessions on topics such as How to practice efficiently, Managing performance anxiety, Musician's Health and Wellness, Audition prep tools and tips (orchestra and college), Career skills and paths, Improvisation, and other topics the group is interested in.
Online socializing and concert viewing
Private participants' Facebook group
Practice accountability partner
Fees:
Application fee: $50 
Tuition: $750 (due upon acceptance unless other arrangements are made)
** Some scholarships are available for participants needing financial assistance.  Please apply as early as possible if you will be needing financial assistance.
***Notification of Acceptance of V2SF Participants will be made on a rolling basis until all spots are filled. 
Important Dates:
June 22: Virtual Violin Summer Festival begins!