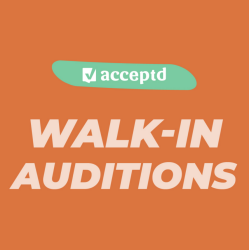 Acceptd's Virtual "Walk-In" Auditions DEMO
Register Here:
Narrow your Search

Our Virtual "Walk-In" Audition Weekend, for the Class of 2023, provides an exceptional opportunity to audition for a handful of schools that, for whatever reason, you did not audition for in the early or regular decision rounds.

Audition spots are limited and on a first-come-first-served basis!
Audition schedules close February 15th at 11:59pm ET


---

STEP 1 - REGISTER

** Registration opens on January 1st at Noon EST **
Select *Free REGISTRATION FORM* from the dropdown to the left
Submit your contact info, headshot, resume, and digital upload (optional)

STEP 2 - SCHEDULE AUDITION(S)

** Audition schedules open on February 1st at Noon EST **
Select the school you want to audition for from the dropdown to the left
Complete audition application
Pay the $20 audition fee

The audition fee is nonrefundable. 
If you qualify for the College Board SAT or ACT fee waiver or Federal Free or Reduced Price Lunch program (FRPL) you may reach out to our Support Team via this link to provide documentation and receive a fee waiver.

Select your audition timeslot
Repeat for each school you would like to audition

IMPORTANT: You may not audition for a school that you have already completed an audition for or received a prescreen denial from within the 2022-23 admissions cycle.
---
Frequently Asked Questions:

Can I complete my registration before the audition schedules open on February 1st?
Yes! We'd encourage you to complete the free registration form as soon as possible so that when the audition schedules open on February 1st, you can go straight to choosing schools and scheduling yourself.

Do I need to submit a prescreen?
No! Just like In Person Walk-In Auditions at Unifieds, a prescreen is not required to schedule an audition slot. We strongly encourage all applicants to submit a digital upload when registering. This digital upload allows schools to familiarize themselves with your work before auditions & safeguards against technical issues day-of, but it will not be used as a prescreen. You do NOT need to present the same material from your digital upload for your live "Walk-In" auditions!

Is my audition fee refundable?
No. The $20 audition fee is nonrefundable.

In what time zone is my audition? 
All auditions will be held in Eastern Standard Time. 

Do I also need to apply to the school?
Yes. After you complete your audition, if you are serious about the school, you must submit your academic application within 2 weeks in order to be fully considered. Some schools also require a supplemental application to the department. 

Are walk-in auditions for graduate programs too?
No. This year the Acceptd Virtual "Walk-In" Auditions are only for students looking to audition for BFA, BM, or BA programs.

For technical questions, please visit the Acceptd Help Desk.