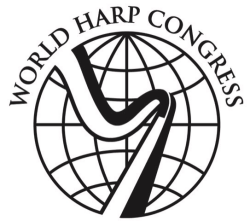 Start an Application
Narrow your Search
The WHC Spectrum is a World Harp Congress initiative to foster contemporary music for harp, performed by young professional harpists. 
Successful videos will be hosted on a special public World Harp Congress Vimeo Hub for one year, and performers will receive an e-certificate if their video is selected. Two application rounds will be held each year in January and July. Up to 25 videos may be selected per Round, totaling up to 50 videos hosted on the Hub at one time (for Rounds 1 and 2).

Deadlines:
Round B: 31 July 2023 (applications open 15 May 2023)
Round A 2024: 31 January 2024 (applications open 15 November 2023)
Eligibility:
35 years or under at the time of recording and submission (applies to all harpists in the submission)
Works of 3 - 6 mins in length, with musically appropriate and composer-approved excerpts allowed
Compositions for solo harp or ensemble including harp, written in or after 2000 (the work is not required to be a premier performance)
Up to 25 videos may be selected per Round, totaling up to 50 videos hosted on the Hub at one time (for Rounds 1 and 2).

Application submission requirements:

$50 Application fee (for each round entered)*
Proof of World Harp Congress membership:  Harpists must be WHC members at time of submission (WHC membership information and application) 
High quality audio and video as a continuous video with no cuts, recorded in a public / commercial / educational facility or similar recommended. Formatting guidelines: landscape format, minimum 720p.
The composition submitted must be publicly available for purchase through a publisher or other distributor, downloadable pdf from composer, or other means.
Up to 200-word description of the composition, which may include a link to performance of the complete work and publication information.
Performers and composers will be required to sign a waiver form for all licensing rights for the one-year duration of hosting on the Vimeo site.
A maximum of two video submissions per twelve-month period accepted: one solo, one chamber music.

How to apply:

Click on the green "Apply To" button found at the top of the screen, and follow the prompts.
*If you are unable to pay the $50 fee:
For US applicants, Acceptd has a fee waiver program for students who are on Federal Free or Reduced Price Lunch program (FRPL).  Please go to Fee Waiver Information to request this. 
If you do not qualify for a US Acceptd waiver, ie you are not a US citizen, please contact the treasurer@worldharpcongress.com to request an application fee reduction form from the WHC, at least one month prior to the application deadline.
For technical questions please visit the
Acceptd Help Desk
.