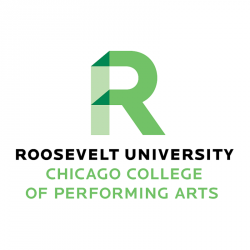 Roosevelt University: The Theatre Conservatory at the Chicago College of Performing Arts (CCPA)
Start an Application
Narrow your Search
Thank you for your interest in the Theatre Conservatory at the Chicago College of Performing Arts (CCPA) at Roosevelt University! Located in the heart of downtown Chicago, CCPA is just steps away from Chicago's bustling theatre district and the Tony Award-winning Goodman, Steppenwolf, Lookingglass, and Chicago Shakespeare Theatres – and our students have graced the stages of them all.

Please note that all applicants to our programs must first complete a Roosevelt University online application, available here. Students who apply through GetAcceptd but do not complete Roosevelt University's online application will not be considered for admission.

All BFA Acting, BFA Musical Theatre, BFA Musical Theatre: Dance Concentration applicants must complete a recorded pre-screening audition due no later than December 1, 2023. More details on requirements can be found here.

Interested in being considered for multiple programs?  Please only submit ONE GetAcceptd application. BFA Musical Theatre applicants who are also interested in BFA Acting should apply for BFA Musical Theatre. BFA Musical Theatre: Dance applicants also interested in either BFA Musical Theatre or BFA Acting should apply for BFA Musical Theatre: Dance Concentration.*


2023-24 Audition Dates: TBC


COVID VACCINATION POLICY
Beginning September 20, outside guests will no longer need to show proof of vaccination to gain access to campus facilities. The University continues to monitor cases in our internal community and Cook County and is prepared to reinstitute these policies as necessary.


THEATRE AUDITION MASK POLICY
Roosevelt University's mask policy takes into consideration internal and regional data and follows CDC guidance. Therefore, auditioning theatre students and their guests may be asked to wear a mask at all times while inside Roosevelt University Campus Buildings including the audition room or inside the CCPA audition room at Unified Auditions. 


Interested in being considered for multiple programs?  Please only submit ONE GetAcceptd application. BFA Musical Theatre applicants who are also interested in BFA Acting should apply for BFA Musical Theatre. BFA Musical Theatre: Dance applicants also interested in either BFA Musical Theatre or BFA Acting should apply for BFA Musical Theatre: Dance Concentration.*

Interested in our NEW BA program? The BA program in Interdisciplinary Theatre Studies is designed to provide students with a flexible, broad-based education in theatre. Students in this program have the option to pursue a particular specialization within the study of theatre, such as stage management, design, directing or dramaturgy, or can couple their study of theatre with a non-theatrical discipline such as business, social justice, psychology or art. The course of study for a student enrolled in the Interdisciplinary Theatre Studies Program can be customized to the student's particular interests and career goals. For more information about the program, please click here. 

If you have any application and audition questions, please reach out to Theatre Counselor EeMing Chua, at echua@roosevelt.edu!

For technical questions, please visit our Acceptd Help Desk.